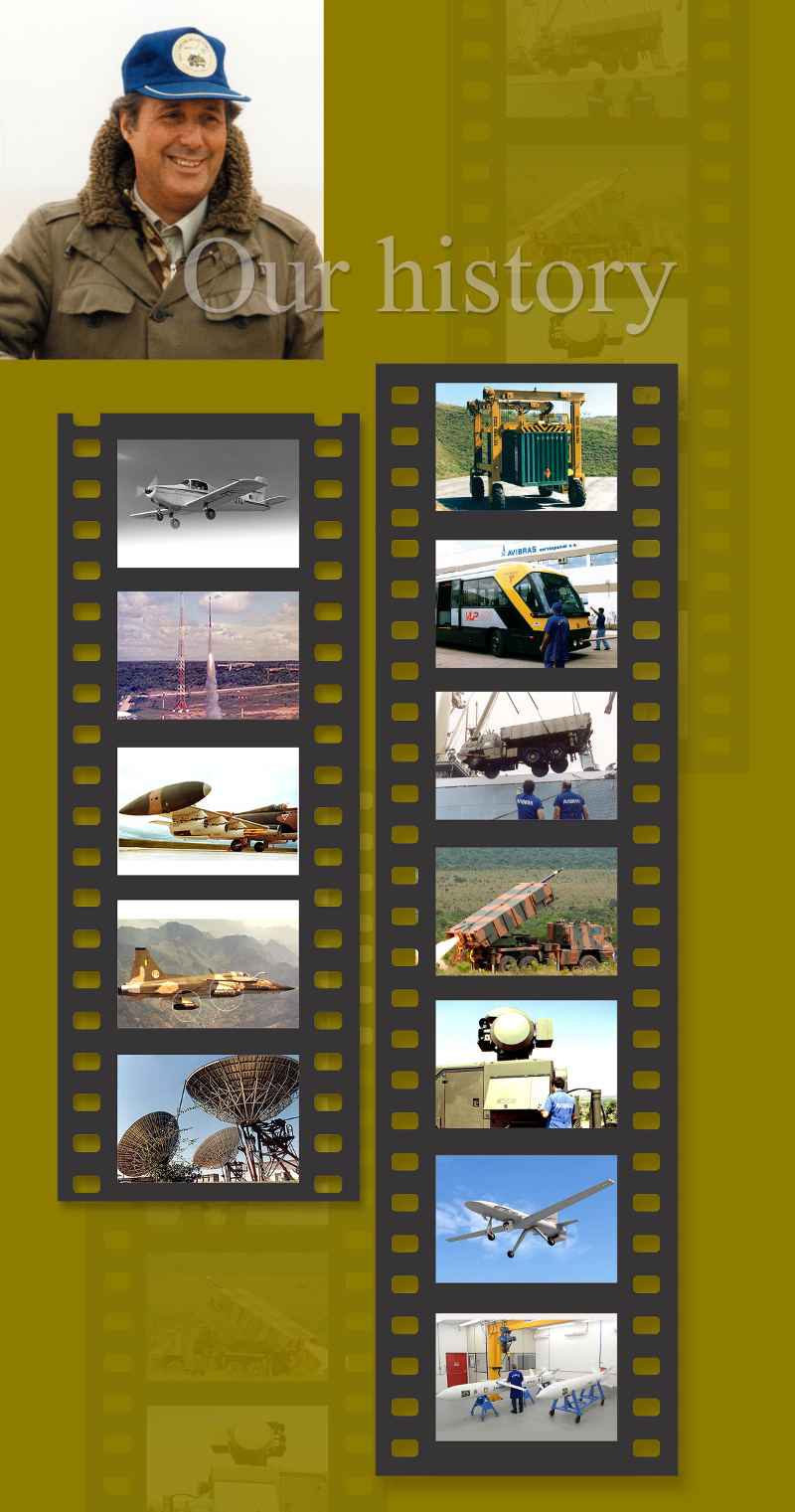 Foundation
Avibras was founded in 1961 by a group of engineers of the "Instituto Tecnológico Aeronáutico" (ITA), among them, the engineer João Verdi Carvalho Leite. Avibras conquered its place in the history of the aerospace industry, as a pioneer in Brazil in aircraft building, participation in programs of space research, and the development and manufacture of special vehicles for military and civilian purposes.
First projects
The first projects were the airplanes called "Alvorada" and "Falcão" - the first aircraft manufactured in São José dos Campos, with composite material, considered a worldly technological advance at that time.
Advances in the aerospace sector
Still in the 1960s, Avibras produced the first Brazilian space device with the development of a perchlorated composite solid propellant. Avibras also developed for the Air Ministry: the rockets Sonda I, Sonda IIB and Sonda IIC and the heat treatment of Sonda II metallic envelope, in addition to launching platforms.
At the end of the 1960s, the company went on to develop surface-to-surface rockets and missiles for the Brazilian Army, in addition to air-to-ground rocket systems and helicopter armaments for the Brazilian Air Force and for the Naval Aviation of the Brazilian Navy.
Product diversification
In the 1970s, Avibras' 10-meter diameter satellite dishes accounted for much of the coverage of telecommunications of the vast Brazilian territory.
Avibras also developed and produced systems and equipment for materials transportation and handling, such as vehicles for road and rail traction, handling of containers, electrical traction systems for trolley buses and other vehicles for special purposes.
Defence systems: focus on innovation
The 1980s were marked by the growth of exports, mainly through the development of new Defence systems and the expansion of Avibras, with the creation of new facilities and other related companies, to serve the development of new products, systems and services in the civil and military areas.
With the development of the family of Artillery Saturation Rocket Systems for Area Saturation (ASTROS) and the beginning of exports in 1983, the company was able to have a qualitative and quantitative leap.
Worldwide recognition
What has always characterized Avibras is the permanent state of technological innovation, success in the development of its projects and partnership with the Brazilian Armed Forces and the Government funding agencies.
Today, the company is recognized worldwide in the area of Defence for its excellence in engineering and advanced technology, producing air-to-ground and ground-to-ground defence systems, remotely piloted aircrafts (RPA) and missiles, with software and hardware developed, designed and integrated at Avibras.
Avibras has today a highly diversified industrial complex, with two facilities (Jacareí and Lorena), a priceless technological collection and human capital, which are its greatest asset.